Cambridge Highway 401 Expansion
Welcome to the information website for MTO construction contract 2020-3032.
Work to be completed under this contract includes the widening of Highway 401, from six lanes to ten lanes, including the replacement of the Hespeler Road Bridges, rehabilitation of Townline Road Underpass and Wellington County Road 32 Underpass.
Work will be taking place along Highway 401 from 0.1 km west of Highway 8 to 2.1 km east of Townline Road for a total length of 10.3 km.
Year 2021 notable weather dependent dates:
Hwy 401 traffic realignment places traffic towards the median shoulder for highway widening work. This is scheduled for the week of April 5th and (Updated) lasting approximately until August 2021, see the Traffic Impacts page for weekly updates on this closure. Realignment will include the closure of all the Franklin interchange ramps. See image below "Hwy 401 traffic realignment"
Townline Road staging scheduled to begin the week of March 29th. Traffic realignment is for work required on the outside lanes.
Details on the specific lane restrictions will be updated one week in advance of the work on the Traffic Impacts page.
Hwy 401 Traffic Realignment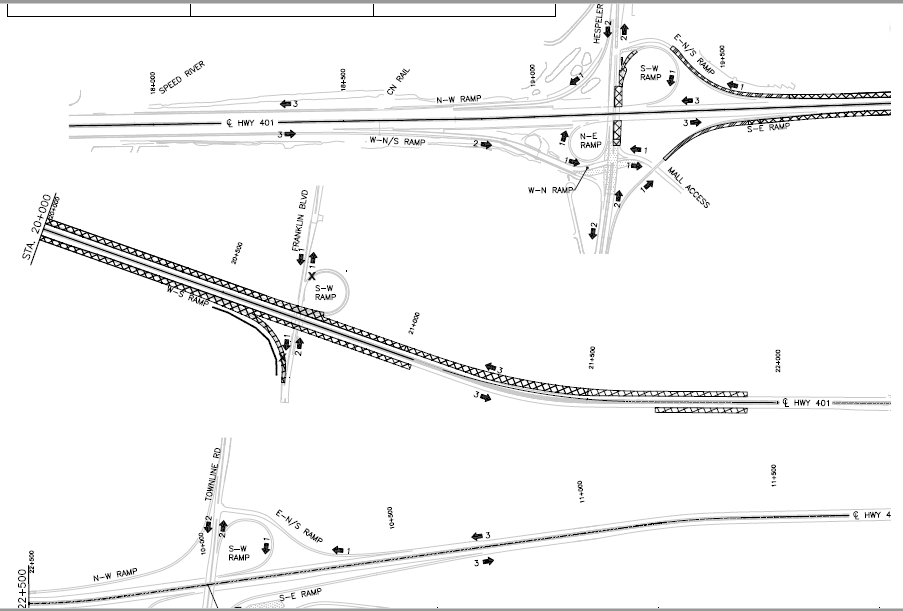 Hwy 401 Traffic Realignment
Click image to enlarge